Optimists of 1932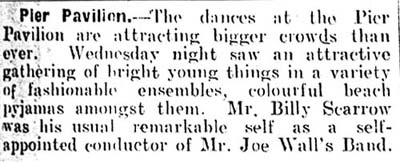 Due to poor takings of the previous season, Redcar Council offered Billy Scarrow a free trial for this season. The line-up for the Optimists in 1932 were Billy Scarrow (Tenor), Ted Duncan, Eva Walker, Mabs Haworth, Billy Walters and Billy Lambert (pianist and piano-accordianist).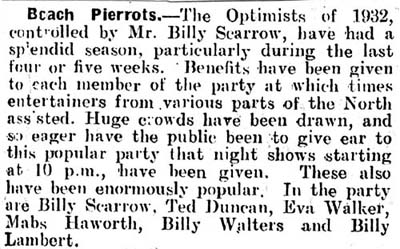 The Optimists made several appearances in the local newspaper, The Cleveland Standard, two clippings of which can be seen here. By the end of the season the Optimists had established themselves as a popular act, and were to re-appear in successive seasons until 1939, which was to prove their last, due to the outbreak of war.
Billy Scarrow was by now a household name in Redcar, and to that end wrote a piece in the Cleveland Standard on how to do exercises.