Optimists of 1933
The Optimists opened the 1933 season on June 3rd at 3pm. Prices were 6d and 4d for chairs, or 3d for forms.
The Cleveland Standard describes
The Optimists - Pierrots have a noble tradition to carry on. High standards have been set in the past, and the familiar platform on the beach, the happy good-natured buffoonery and spirited humour, are all as indispensible at the seaside as the sea and the sands. Without pierrots, a coastal town is only a coastal town and not a holiday resort.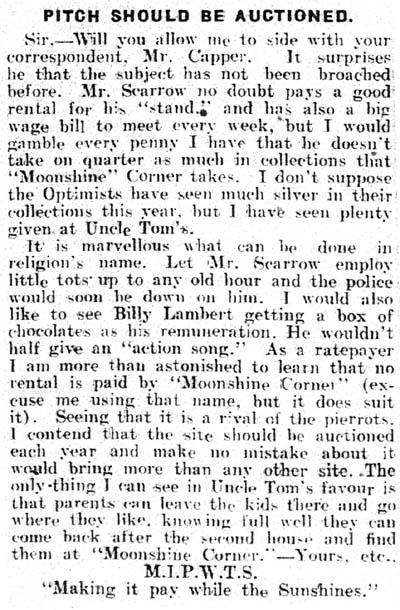 And without the "Optimists" Redcar would not be the holiday resort it is. Last year Billy Scarrow presented a tip-top show. This year it is considerably improved, and the crowds at every performance have enjoyed entertainment of a high quality. A highly successful feature have been the moonlight shows, and the troupe have literally been playing or working day and night. The cast includes: Billy Scarrow (tenor), Billy Sands aka Sandy (comedian and dancer), Renee Rayne (soubrette and child impressionist), Victor Brooks (violinist), Bert Harrow Jnr (comedian and banjoist), Billy Lambert (pianist and piano-accordianist), Mabs Brandiet (soubrette).
Sunshine Corner
The Optimists were not without competition in Redcar, which principally consisted of Uncle Tom at Sunshine Corner (or Moonshine Corner as it is referred to by the reader's letter on the right). Uncle Tom's shows had a religious theme to them and were possibly aimed more at children than adults.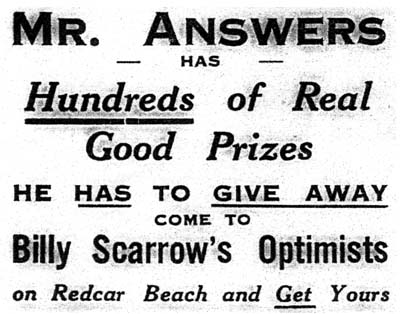 Mr. Answers
Mr. Answers was a regular at the Optimsts shows. Programmes were numbered, and for each show a number drawn out of a hat corresponding to the number on the programme would generate a prize.
During this year, the Optimists performed in Grangetown, Billy's place of birth, and also at the Stead Memorial Hospital.