Optimists of 1934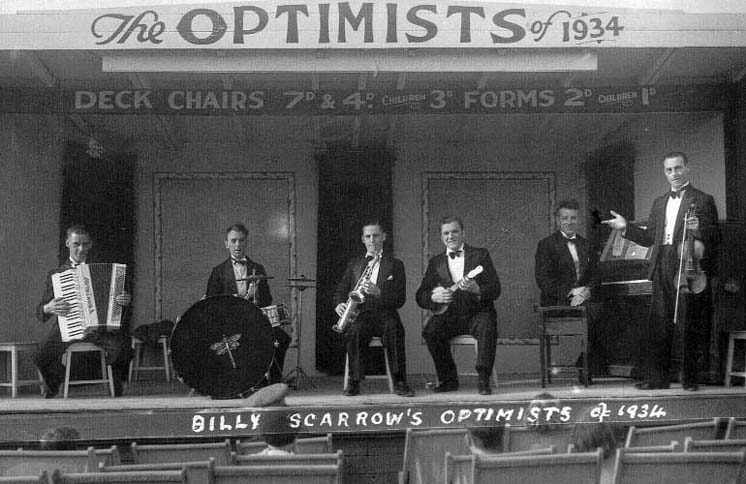 Optimists: including Billy Scarrow (seated by piano), Vic Brooker (violinist far right).
On June 23rd 1934, the Cleveland Standard published a biography of Billy Scarrow:
"Ayday" says ..... Meet Redcar's "Strolling Player"
Meet "Billy" Scarrow, Redcar's own "strolling player" and leader of the "Optimists of 1934". His real name is William Henry Scarrow, but he is better known in Redcar as plain "Billy". This year he celebrates his fifteenth year of theatrical work. As a variety actor he has travelled hundreds of thousands of miles - yet summer after summer he always returns to his home town.
He is a native of Grangetown but came to live in Redcar in 1916, and first appeared on the stage when he was eight years of age, at a Grangetown Wesleyan Chapel concert. He was a member of the Redcar Wesleyan Choir.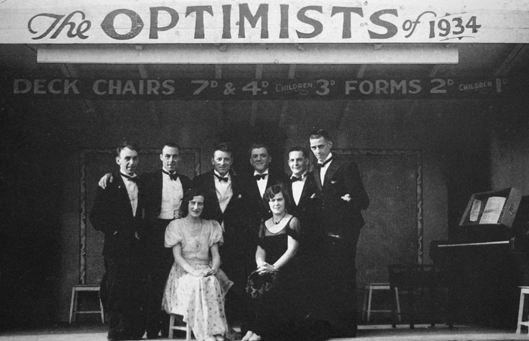 "Billy" has had a gruelling life. The life of a variety artiste is not all honey, and "Billy's" has not been an exception to the rule. Acting is in his blood. His present work is exacting both physically and mentally. Being actor-manager, his work of presenting four shows a day is no small job. Not only that, but he has to understand, to some extent, the physchology of his audience, and a seaside audience is not particularly easy to please. When it comes to studying the physchology of any member of the audience who is drunk and has managed to get past the box-office, then ingenuity is taxed to its extreme. That is what happened one night recently. Two young men who had obviously had "one over the eight" insisted on applauding at the most inopportune and unnecessary moments. "Billy" played with them humorously at first and managed to keep them controlled for a while, but finally in the middle of one of the acts, he leapt off the stage and acted as "offical ejector" to his show. That is just one light on the life of Redcar's actor-friend. Not only has he to sing, dance, play the piano, tell a joke or two, and do a host of other things which make up the repertoire of a pierrot but he has also to deal with any awkward element of his audience!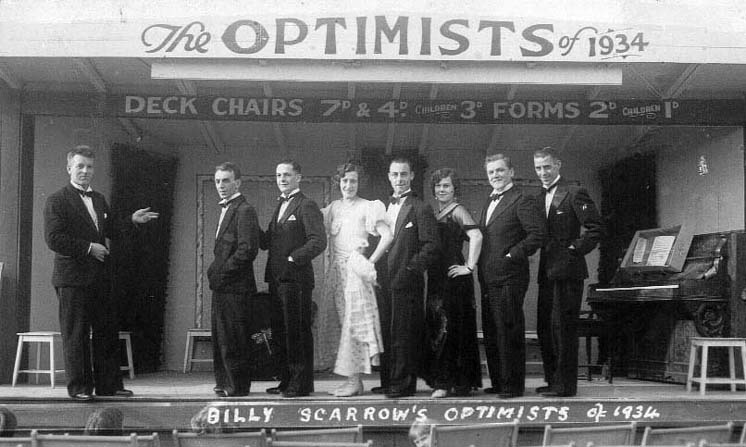 Telling me of his theatrical life, Billy said that in 1919 he joined his first concert party at the age of 20 and appeared at the Redcar Old Arcadia. Then he joined the "Jovial Growsers" and travelled with them for seven months all over the country. He also toured in a "Babes in the Wood" pantomime. His next show was with the "Famous Brooklyn Comedy Four" at Middlesbrough Opera House when the "Four" were working with John Lister's big cowboy show "A Round-Up Revue". From this Billy went into pantomime at the Grand Theatre, Croydon, where he was immediately booked for Dixon's "Crazy Town Revue". Leaving this he toured Ireland with the "Comedy Four". Returning to England, he toured the principal halls throughout the country with the Four. When he parted with them his next engagement of any note was with E.B. Seenor's "Granby Revue", which he left at the Grand Theatre, Clapham.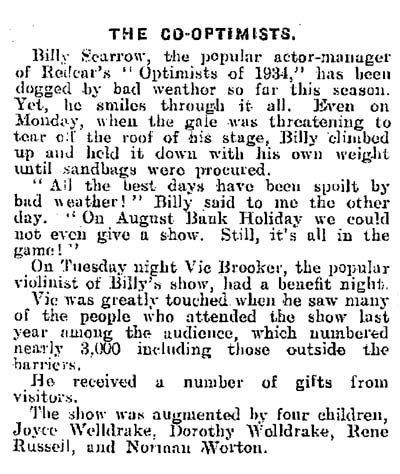 Two months later he gave his first pierrot show at Redcar, where the New Pavilion now stands. Cleveland people will recall the title his party worked under – "Cosy Corner Entertainers of 1926". It will also be remembered how Billy came very near to death when he accidentally shot a finger and contracted the dreaded lockjaw while playing in pantomime at Blackpool. Once, during this illness, he was given up as incurable, but Billy made a great rally and a magnificent "come back". Better still will his good fortune in backing "King of Clubs" when it won the Lincoln at 100-1 be remembered!In 1927 he again presented a concert party in Redcar, but in 1928 he played the season with the "Song Demonstators" on the site he now occupies. In winter he joined Leonard Williams and his "Song Film Entertainers" and toured 20,000 miles with them. Then he re-opened his own concert party at Redcar in the summer of 1931 and has staged a show on the beach at Redcar ever since.
That is a sketch of Billy Scarrow's theatrical life. He could describe how, during the Great War (he joined the Army in 1917 and did not leave France until 1919) he entertained the soldiers. He was not one of the famous "Splinters" but he knew them well. This year's show is the ninth show he has managed.